Subscribe to
Posts [Atom]
Monday, February 01, 2010
Foxx Won't Lift a Finger to Preserve the Blue Ridge Parkway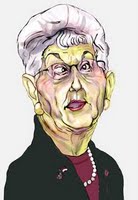 The Blue Ridge Parkway is indisputably a major economic engine for the 5th Congressional District of North Carolina, as well as elsewhere. Almost 20 million visitors come every year and drive its two-lane blacktop and buy fuel, food, lodging, and the geegaws that gladden the tourist heart, generating almost $2.3 billion in revenue annually in North Carolina and Virginia.
Even conservative Republican Senator Dick Burr realizes its economic importance for his state. Burr has signed on as cosponsor with Sen. Kay Hagan of a 75th Parkway anniversary bill which would authorize the preservation (by purchase) of up to 50,000 acres of land along the Parkway route. Heath Shuler (NC-11) is a key sponsor of the House version of this bill.
Conspicuously missing from the House bill's list of co-sponsors are two who actually represent counties through which the Parkway passes ... Patrick McHenry (NC-10) and Virginia Foxx (NC-5).
Foxx's explanation is all rigid conservative ideology. She wouldn't spend a dime, not even to help her own constituents.
The Winston-Salem Journal scolds her in an
editorial
this a.m.: "...we can't afford to get behind on preserving the parkway. The recession is lifting, and resort property prices will soon resume their steady climb. We should have money for land ready so that orderly development can be balanced with preservation -- our responsibility to future generations."
Labels: Blue Ridge Parkway, Health Shuler, Kay Hagan, Patrick McHenry, Richard Burr, Virginia Foxx
Friday, January 29, 2010
Turd Blossom Does Raleigh
Friday, January 22, 2010
In the Face of Conventional Wisdom
Tuesday, December 29, 2009
Burr Wrapping Himself in the Bush Era
Tuesday, December 22, 2009
Oh, That Smell!
Friday, December 11, 2009
Elaine Marshall on Afghanistan Surge
Monday, December 07, 2009
Cal Cunningham Is In
Saturday, December 05, 2009
Burr: Senator or Sock Puppet?
Tuesday, November 10, 2009
Cunningham Won't Run
Wednesday, October 21, 2009
Dick Burr, Wrong for N.C. in So Many Ways
Wednesday, September 09, 2009
Elaine Marshall Is In
Wednesday, September 02, 2009
Some Balls!
Tuesday, September 01, 2009
Burr on a Leash
Tuesday, August 25, 2009
Cal Cunningham
Friday, August 21, 2009
Dick Burr: Options Are Scary, Like Voters
Tuesday, August 18, 2009
Dick Burr Shows His Face in Western N.C.
Thursday, August 13, 2009
The Money That Endangers Democracy
Tuesday, August 04, 2009
Tuesday, June 09, 2009
Shuler: A Thousand Times No
Monday, June 08, 2009
She'd Be the Instant Front-Runner
Friday, June 05, 2009
The Pitfalls of Ambition
Thursday, June 04, 2009
Cal Cunningham
Tuesday, May 19, 2009
Sen. Dick Burr Relieved To Be a Backseat Driver
Monday, May 18, 2009
Acid Reflux
Friday, May 15, 2009
Roy Cooper, No Go
Sunday, April 19, 2009
Dick Burr a Goner?
Friday, April 17, 2009
A.G. Cooper Announcing Against Burr by End of Month?
Thursday, April 16, 2009
Dick Burr, Banking Genius
Wednesday, April 08, 2009
Dick Burr Tries to Turn Down the Heat
Sunday, April 05, 2009
Sen. Burr Decides to Gnaw a Bone
Monday, March 23, 2009
Richard Burr Is a Dick
Tuesday, March 10, 2009
It Rained on His Parade
Friday, February 13, 2009
Dick Burr Targeted by DSCC
Thursday, February 05, 2009
Dick Burr Has a Hacking Cough
Monday, January 26, 2009
Big Dog Clinton Raising Money for Shuler
Monday, January 05, 2009
Dick Burr Decides To Take an Interest in NC
Wednesday, December 10, 2008
The Cooper-for-Senate Drumbeat Begins
Saturday, November 15, 2008
Heath Shuler for U.S. Senate?
Wednesday, June 04, 2008
Richard Burr, Moral Midget