Subscribe to
Posts [Atom]
Sunday, February 14, 2010
Blue Cross of N.C.: Pigs at the Trough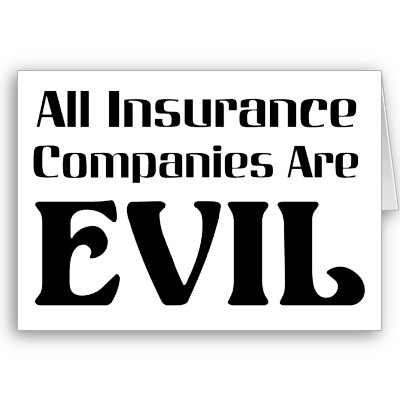 Fact:
The NC Department of Correction's spending on hospital care for prison inmates has been out of control over the past decade: it shot up from $17.5 million in 1999 to $55.8 million in 2009.
Fact:
Last Aug. 5, the NC General Assembly passed its budget bill, which included a provision mandating that inmates treated at hospitals would be billed at the same rates as the State Health Plan for state workers and teachers, a reform that would have saved the state millions on hospital treatment for inmates.
Disgusting Fact:
On the day that Gov. Perdue signed the budget law, state Democratic Sen. Tony Rand inserted language in a legislative housekeeping bill that effectively gutted the money-saving provision.
Really Disgusting Fact:
It comes to light in an investigation by the Raleigh News & Observer (
published today
) that Blue Cross Blue Shield of N.C. was sending secret e-mails to Sen. Rand containing the language that he subsequently inserted to help that monopolistic health-insurance provider (so to speak) continue to rip off the state's taxpayers.
These are the same corporate tools who have gotten hysterical over the threat of actual health-insurance reform, like the "public option," and who have used the U.S. mails to induce their naive subscribers to put pressure on Sen. Kay Hagan and others not to do anything in Congress that might cause their cash cow to give less milk.
Non-profit corporation ... there's an oxymoron!
Tony Rand is now gone from the State Senate,
pursued closely
by the bears of prosecutorial retribution. Might his collusion with BC/BS of NC be added to the list of offenses, or was that perfectly legal in the way that only politicians could devise unethical string-pulling to be "perfectly legal"?
Labels: Blue Cross, health care, Kay Hagan, Tony Rand
Wednesday, February 03, 2010
Quacks Like a Duck
Monday, February 01, 2010
Foxx Won't Lift a Finger to Preserve the Blue Ridge Parkway
Wednesday, December 23, 2009
Well Okay Then
Tuesday, November 03, 2009
Take That, Blue Cross NC!
Thursday, October 29, 2009
Using Blue Cross's Dime
Thursday, September 17, 2009
The Allure of Corporate-Think
Thursday, September 10, 2009
The Company She Keeps
Friday, September 04, 2009
35th Richest Lawmaker in D.C.
Tuesday, August 25, 2009
Cal Cunningham
Thursday, August 13, 2009
The Money That Endangers Democracy
Friday, July 31, 2009
Hagan Gets Over Her Case of the Willies?
Tuesday, July 28, 2009
What Senators Dodd & Hagan Have in Common (Other Than Uncommonly Good Health Insurance)
Thursday, July 16, 2009
The Face of the Opposition
Thursday, July 09, 2009
Blue Cross ... Bad Dog!
Tuesday, July 07, 2009
Pharmaceutical Industry Loves Itself Some Sen. Hagan
Thursday, July 02, 2009
Sen. Hagan Now Backing a Public Option?
Friday, June 26, 2009
Monday, June 22, 2009
Watauga ... Most Under-Insured County in N.C.
Thursday, June 18, 2009
Who Does Sen. Hagan Represent?
Wednesday, May 20, 2009
Impeccable Logic
Monday, April 06, 2009
Kay Hagan's Gut
Wednesday, April 01, 2009
Tony di Santi Advising Hagan
Sunday, March 29, 2009
Hagan Ramps Up Her Opposition to the President
Monday, March 23, 2009
Richard Burr Is a Dick
Wednesday, March 18, 2009
The Republican Sun Just Rose
Thursday, March 12, 2009
Distemper Shots Recommended
Saturday, February 21, 2009
Kay Hagan Shows Courage
Friday, February 13, 2009
Dick Burr Targeted by DSCC
Saturday, November 15, 2008
Heath Shuler for U.S. Senate?
Friday, November 14, 2008
Hagan Drops Libel Suit Against Dole
Tuesday, November 04, 2008
Godless American Defeats Dole
Thursday, October 30, 2008
It Wasn't an Idle Threat
Liddy Dole's Naked Desperation
Wednesday, October 29, 2008
Republican End-Game: Close Your Eyes and Swing Wild
Monday, October 20, 2008
Obama, Hagan Expand N.C. Leads
Wednesday, October 15, 2008
Our Mailbag Floweth Over
Wednesday, September 24, 2008
Losing Focuses the Mind
Tuesday, August 26, 2008
Hagan Pulls Ahead of Dole in Senate Race
Monday, August 11, 2008
Wal-Mart Buys In On N.C. State Government
Sunday, June 22, 2008
Debates at the Beach
Thursday, June 19, 2008
The NC Senate's Proposed Budget
Friday, June 13, 2008
Is Anybody Home?
Monday, May 12, 2008
Kay Hagen Within Striking Distance of Dole?