Subscribe to
Posts [Atom]
Tuesday, August 25, 2009
Cal Cunningham
Sunday, April 19, 2009
Dick Burr a Goner?
Friday, February 13, 2009
Dick Burr Targeted by DSCC
Friday, November 14, 2008
Hagan Drops Libel Suit Against Dole
Tuesday, November 04, 2008
Godless American Defeats Dole
Thursday, October 30, 2008
It Wasn't an Idle Threat
Liddy Dole's Naked Desperation
Wednesday, October 29, 2008
Republican End-Game: Close Your Eyes and Swing Wild
Monday, October 20, 2008
Obama, Hagan Expand N.C. Leads
Wednesday, October 15, 2008
Our Mailbag Floweth Over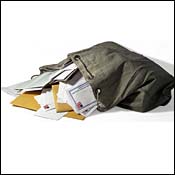 Just this week has brought a plethora -- a PLETHORA, we tell you! -- of political mail, some of which deserves actual reading:
1. Today, a letter from John McCain: "Dear Friend, We've reached a critical juncture in the campaign...."
Surely you jest, Sir. An actual "critical juncture"?
"...I would not ask for your help if the circumstances were not so dire," John continues.
We know. We've been actually paying attention. Sarah Palin turned out to be a bit of a problem, right? and that Christopher Buckley endorsement of Obama was a bit of a slap.
But still, Senator, you're trying to get big bucks out of us and you don't even use the adjective "liberal" once? Not ONCE?? Just how desperate are you, anyway? And you don't even want the money yourself. You want me to send it to ... the Republican National Committee? Death by proxy?
2. Speaking of ambiguous gestures, one of our pieces (actually, we got two, which doesn't speak well about the GOP's wasteful habits) was from that selfsame Republican National Committee ... a four-color, four-page item headlined "AMERICA, The Land That I Love" ... at which point we have to turn the page to discover that Barack Obama will take away "our traditional American values." Then on the third panel, it quotes the National Journal, the very publication that yesterday accepted the resignation of Christopher Buckley for endorsing Barack Obama, because of his love of America. Ooooh. Damn inconvenient irony, that!
3. "Meet Jerry Butler," suggests a third piece, its message of friendly neighbor-over-the-fence introduction undercut somewhat by that big off-putting photo of the candidate. Eighty percent of success is good lighting, we've always heard.
4. The biggest, the glossiest four-color, four-page piece comes from The Madam, with multiple photographs of Virginia Foxx wedging herself into family reunion shots with lots of creeped-out children. If the goal here is to try to humanize the inhuman, we're afraid it doesn't quite work. While the people she's pictured with seem secure in their ordinary reality, Madam Foxx stares down the camera like a tensed up puma, waiting to spring.
5. Another big glossy mailing attacking Barack Obama, from the Republican National Committee. Looks like they've got plenty of money, John.
6. Dan Soucek, posing in his military uniform. Interesting special pleading, that. "Paid for by Soucek for NC House."
7. "Republican Dan Soucek: Proudly Pro-Life." "Paid for by the North Carolina Republican State Executive Committee."
8. through 13. Attack pieces against U.S. Senate candidate Kay Hagan (and suddenly, true political desperation has an outline). Heavy involvement here by outside groups. Three of these five pieces were paid for by the Associated Builders and Contractors Free Enterprise Alliance. One of their pieces is proud of Elizabeth Dole because she'll drill for oil everywhere immediately. The other claims that North Carolina has the highest tax burden in the Southeast and blames the patently pro-business Kay Hagan for that. (That first claim is just pure buffalo dust; the second, laughable.) The third uses "ENOUGH IS ENOUGH!" as though Kay Hagan were the Washington insider rather than Elizabeth Dole. The last two anti-Hagan pieces came from Freedom's Watch, which, according to
Wikipedia
, was formed in 2007 primarily to support the Bush administration and especially the Bush administration's policy in Iraq. Apparently, Kay Hagan is a threat to the Bush legacy.
Labels: Barack Obama, Dan Soucek, Elizabeth Dole, Freedom's Watch, Jerry Butler, John McCain, Kay Hagan, National Republican Party, Virginia Foxx
Wednesday, September 24, 2008
Losing Focuses the Mind
Tuesday, September 23, 2008
The Consequences of Memory
Tuesday, August 26, 2008
Hagan Pulls Ahead of Dole in Senate Race
Thursday, August 14, 2008
Liddy Dole Is 93
Wednesday, August 06, 2008
Liddy Dole, "The Obvious Choice for VP"
Monday, August 04, 2008
Foxx Will Attend Republican Convention
Saturday, August 02, 2008
Ranked 93rd in the Senate for Effectiveness
Wednesday, July 30, 2008
Liddy Dole, Getting Busy
Monday, July 14, 2008
Agree to Republican Values, Or This Kitten Gets It!
Monday, June 30, 2008
Crack Whore
Sunday, June 22, 2008
Debates at the Beach
Thursday, June 19, 2008
NC GOP in Full Whine Mode
The NC Senate's Proposed Budget
Friday, June 13, 2008
Is Anybody Home?
Tuesday, May 27, 2008
Something's Going On in Kentucky
Thursday, May 15, 2008
How Do You Revive an Elephant?
Monday, May 12, 2008
Kay Hagen Within Striking Distance of Dole?