Subscribe to
Posts [Atom]
Friday, June 12, 2009
Courage
Wednesday, June 10, 2009
The Rise & Fall of Terry McAuliffe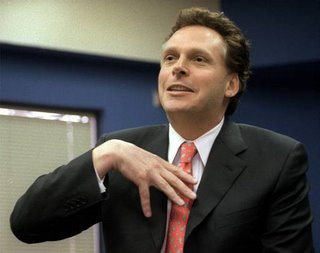 The Mr. Motor Mouth of the 2008 Democratic Presidential primaries got stomped badly
yesterday
in the Virginia Democratic primary for governor, losing to former state senator Creigh Deeds.
And Public Policy Polling, our very active Raleigh outfit, gets
bragging rights
for pretty much nailing the outcome.
McAuliffe, for all his famous fundraising skills and indefatigable happy-talk, just doesn't wear well. We certainly got more than adequately chafed by his constant presence on cable news last February, March, and April, ignoring reality for the sake of Hillary.
Labels: Creigh Deeds, Public Policy Polling, Terry McAuliffe
Wednesday, May 06, 2009
N.C. GOP Stands Tall for Bullying Gay Kids
Thursday, February 05, 2009
Dick Burr Has a Hacking Cough
Saturday, November 15, 2008
Heath Shuler for U.S. Senate?
Monday, October 20, 2008
Obama, Hagan Expand N.C. Leads
Monday, September 29, 2008
A Second N.C. Poll Puts Obama in Lead
Friday, September 05, 2008
Junior Johnson Endorses Roy Carter for Congress
Tuesday, August 26, 2008
Hagan Pulls Ahead of Dole in Senate Race
Monday, June 02, 2008
The Barr Effect