Subscribe to
Posts [Atom]
Tuesday, February 09, 2010
Doesn't This Make You Hate Politicians?
Wednesday, September 02, 2009
Some Balls!
Tuesday, September 01, 2009
Burr on a Leash
Sunday, April 19, 2009
Who Is Steve Schmidt and Why Is He Saying Those Things About the GOP?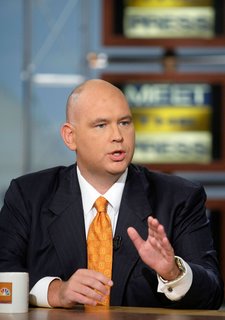 Steve Schmidt's
speech
to the Log Cabin (gay) Republicans Friday makes for very interesting reading, and though most people are likely to highlight his advice for the Republicans to get over their opposition to gay marriage, he says a great deal else about the imminent death of the GOP that might give loyal Republicans, not to mention activist Democrats, some pause.
Steve Schmidt's bona fides: He was an acolyte of Karl Rove, a member of the "senior strategic planning group" in the George W. Bush White House, and oversaw the Bush reelection "war room" in 2004. Then he became John McCain's senior day-to-day message manager during last year's disaster.
He told the Log Cabin Republicans on Friday that the Republican Party is shrinking. Most alarming, it's shrinking among voters under the age of 30 and among Hispanic voters. If John McCain had not been on the ballot, he's convinced that the Democrats would have won Arizona last year.
On the issue of gay marriage: "...it cannot be argued that marriage between people of the same sex is un-American or threatens the rights of others. On the contrary, it seems to me that denying two consenting adults of the same sex the right to form a lawful union that is protected and respected by the state denies them two of the most basic natural rights affirmed in the preamble of our Declaration of Independence -- liberty, and the pursuit of happiness. That, I believe, gives the argument of same sex marriage proponents its moral force."
Sooner or later, Schmidt believes, the Republican Party
will be forced
to acknowledge the moral rightness of that argument. Sooner would definitely be better, in his view, for the political health of his party. Later, though foreordained, will likely be too late.
And get this: Schmidt believes that a group's notion of the revealed word of God is not a good basis for a political party's platform: "If you put public policy issues to a religious test you risk becoming a religious party, and in a free country, a political party cannot remain viable in the long term if it is seen as sectarian."
Schmidt was making sense. Can we rest secure in our confidence that the leaders of the Republican Party will not listen?
Labels: gay marriage, homophobia, John McCain, Steve Schmidt
Sunday, February 08, 2009
Newt Gingrich, Sob Sister
Tuesday, October 28, 2008
Whack Job
Friday, October 24, 2008
Barry Goldwater's Granddaughter Endorses Obama
Monday, October 20, 2008
Obama, Hagan Expand N.C. Leads
Sunday, October 19, 2008
Colin Powell Endorses Obama
Here's an Idea: Let's Have Us a Witch-Hunt!
Thursday, October 16, 2008
Haiku
John McCain, Get Some Counseling, Please!
Wednesday, October 15, 2008
Our Mailbag Floweth Over
Monday, October 13, 2008
Nothing Could Be Finer Than To Be in Carolina ... in the Morrrn-ning!
Saturday, October 11, 2008
John McCain: Obama Is Not An Arab
Friday, October 10, 2008
On the Precipice of Panic
Wednesday, October 08, 2008
The Lower Depths
Monday, October 06, 2008
Will This Come Up in the Debate Tomorrow?
Michigan to McCain: Don't Let the Door Hit Ya!
Hugh McColl Endorses Obama
Thursday, October 02, 2008
Obama Will Camp Out in Western N.C.
Monday, September 29, 2008
A Second N.C. Poll Puts Obama in Lead
Out of the Loop and Irrelevant
Saturday, September 27, 2008
Monkey Behavior and John McCain
The First Debate
Friday, September 26, 2008
He Shaved His Legs for This?
Thursday, September 25, 2008
Obama Now Leading McCain in N.C.
It Wasn't a Frickin' Stream!
Wednesday, September 24, 2008
Presidential Polls: None the Wiser?
Tuesday, September 23, 2008
John McCain, Getting the Jump on Halloween
Sunday, September 21, 2008
1.4 Trillion
In Charlotte, Right Now ... 'Overwhelming Turnout'
Saturday, September 20, 2008
Brokeback Presidency
Thursday, September 18, 2008
WSJ on McCain: "Un-Presidential"
McCain Does/Does Not Support Ending Mountaintop Removal
Wednesday, September 17, 2008
Clueless John
Monday, September 15, 2008
Joe Biden in Charlotte
Fallout
Saturday, September 13, 2008
John McCain ... Serial Liar
Thursday, September 11, 2008
McNasty Is Scum
Wednesday, September 10, 2008
Oh, Sweeeet! Those Michigan Republicans!
Palin Might Cost McCain Florida
The Rancid Truth
Monday, September 08, 2008
Republicans Hate Celebrities
Sunday, September 07, 2008
Palin: Libertarian on Everything But Women's Rights
Palin Used Public Money To Fund Anti-Abortion Group
Friday, September 05, 2008
Some New Vocabulary
Stonewall Palin
Tuesday, September 02, 2008
Big Tentism
Monday, September 01, 2008
Northern Exposure
Sunday, August 31, 2008
Sunday Morning Spoor
Saturday, August 30, 2008
Denominational Inexactness
The Runner-Up
Friday, August 29, 2008
That Was Quick
McCain's Veep?
Thursday, August 28, 2008
The Myth of a Maverick
Wednesday, August 27, 2008
Thank You, Bill Clinton
Tuesday, August 26, 2008
The Democratic Convention, According to Fox News
Who You Gonna Call?
Monday, August 25, 2008
You Might Be an Elitist (4)...
Saturday, August 23, 2008
You Might Be an Elitist (3)...
Friday, August 22, 2008
You Might Be an Elitist (2)...
You Might Be an Elitist...