Subscribe to
Posts [Atom]
Tuesday, September 29, 2009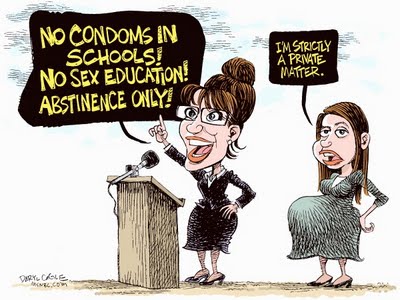 Abstinence-only "sex education" did not work in Texas schools when we went through them (in the 1880s). And abstinence-only sex education isn't working now. It's a joke almost as big as a certain former guv of Alaska, but at least some Texas school districts are
beginning to recognize
that.
There are few states where the Southern Baptists are more powerful than in Texas, and the Southern Baptists have been resolutely opposed to giving teenagers actual facts about their raging sexuality, including actual information about how to prevent pregnancy. On the other hand, the Southern Baptists have been extremely effective in forcing abstinence-only on public schools. Not to mention the federal government. Under both Bill Clinton and George W. Bush, the feds spent $1.3 billion (
billion
) on the abstinence-only fairy tale. The result? A soring teen pregnancy rate, especially in God-blessed Texas, which
has the third-highest teen birth rate in the country and the highest percentage of teen mothers giving birth more than once.

The rate of student pregnancies in Austin high schools has increased 57 percent since the 2005-06 school year, and rates of sexually transmitted diseases are rising among Travis County teens.
At least some Texas school districts (urban ones to be sure) are changing direction to combat such dismal statistics. For country school districts, where going to the football game and screwing under the bleachers constitute the standard teenager Friday night, well, they're not going to feel so free.
Labels: abstinence only, Sarah Palin, teen pregnancy, Texas
Monday, April 06, 2009
That Horse Done Left the Barn
A spokeswoman for the Sarah Palin family issued a
statement
on Friday that the most famous pregnant teen in America, Bristol Palin, will henceforth focus on "advocating abstinence."
You absolutely, positively could NOT make this stuff up.
Labels: Sarah Palin, teen pregnancy
Thursday, January 08, 2009
Mississippi Burning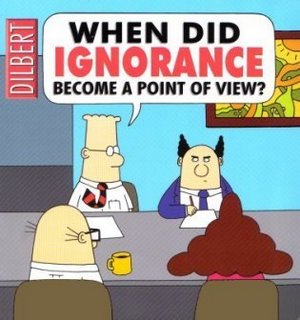 Mississippi, where they don't want their teenagers to know the first thing about preventing pregnancy or about sexually transmitted diseases, has the highest teen pregnancy rate in these United States.
The Centers for Disease Control
found
that in 2006, the Mississippi teen pregnancy rate was over 60 percent higher than the national average and increased 13 percent since the year before.
But they simultaneously know how to preach that "abstinence only" line of propaganda, which (let's face it) is a whole lot easier to peddle than the truth.
Mississippi schools are not required to teach sexuality education or sexually transmitted disease (STD)/HIV education. If schools choose to teach either or both forms of education, they must stress abstinence-until-marriage, including "the likely negative psychological and physical effects of not abstaining." […]

If the school board authorizes the teaching of contraception, state law dictates that the failure rates and risks of each contraceptive method must be included and "in no case shall the instruction or program include any demonstration of how condoms or other contraceptives are applied."
A nervous titter might run through the room.
Labels: abstinence only, Mississippi, teen pregnancy