Subscribe to
Posts [Atom]
Sunday, March 07, 2010
"She's a Professional Politician"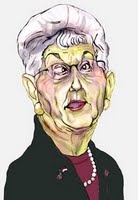 Keith Gardner, the hapless Republican primary challenger to Virginia Foxx, is a walking example of
cognitive dissonance
. He said on
GoBlueRidge
about Foxx, "She's well known, she's well liked in most of the district. In fact, I like her. However, she's a professional politician. I do not like the idea of a professional politician."
I like her, but I do not like what she is.
Well, it's a start.
Labels: Keith Gardner, Virginia Foxx
Wednesday, February 24, 2010
Mystery Man
The "Keith Gardner" who filed to run against Virginia Foxx in the Republican primary on May 4 listed his address on the filing forms at the State Board of Election as 2425 N. Center St. Suite 204, which is the mailing address for the business (
Admin on Call, Inc.
) for which "V.K. Gardner" is listed as agent on the Secretary of State's listing.
The Watauga Democrat
says
he is a resident of Alexander County. "Van Keith Gardner" is indeed registered in Alexander Co. (which IS in the 5th District) at a Hickory address -- 185 Sienna Drive -- which also happens to be the registered office address for Admin on Call, Inc.
He registered to vote in Alexander County just last November 18.
Admin on Call, Inc. does not appear to have a website. It is listed on the national
citysearch
for Hickory as offering "legal services." The Watauga Democrat says it's a "medical practice management firm," which maybe involves "legal services." We searched several variations of the Gardner name on both the North Carolina Bar site and the NC medical registry and could not find him listed as either an attorney or a medical professional.
He has no web presence that we can locate, and other than mailing a letter to one of the addresses listed on the Secretary of State's site, we don't know how to wish him well in his quest to unseat Virginia Foxx.
Labels: Keith Gardner, Virginia Foxx
Monday, February 22, 2010
"Keith Gardner of Hickory"
At the moment,
that's all
we know about Congresswoman Virginia Foxx's Republican primary opponent. Except that he filed last Friday in Raleigh. Hickory's in the 10th; Foxx represents the 5th. Go figure.
For one brief moment there, we thought that maybe this Keith Gardner running against Foxx is also
this Keith Gardner
, who describes himself as anti-tax, "socially liberal," and "poly-dogmatic."
Hey! Whatever turns you on.
Labels: Keith Gardner, Virginia Foxx