Subscribe to
Posts [Atom]
Wednesday, September 30, 2009
Meet the Fockers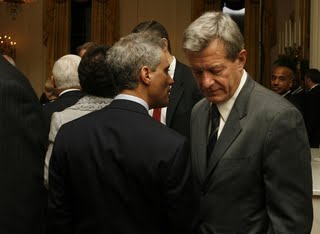 Which part did you like best, that the five Senate DINOs below
voted
with their puppet-masters, the insurance corps, yesterday on the Rockefeller amendment, or that Sen. Baucus said he actually supported a public option but wasn't voting for it because it couldn't pass the Senate because he would vote against it?
The Corporate Kleptocracy is alive and well in the U.S. Senate and doesn't even bother any more trying to cover its own hilarious twisted logic. Thank you so much for playing, and don't forget your parting gifts:
Kent Conrad (D-ND)
Blanche Lincoln (D-AR)
Tom Carper (D-DE)
Bill Nelson (D-FL)
Max Baucus (D-MT)
Labels: health care, Jay Rockefeller, Max Baucus, Senate Blue Dogs
Thursday, September 24, 2009
Jay Rockefeller, New Lion in the Senate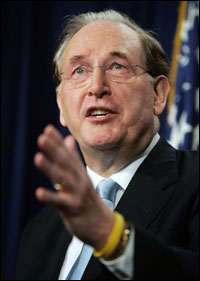 At least on the issue of health insurance reform, he's being a mensch. Just today, in the Senate Finance Committee markup of the awful Baucus bill, about an amendment offered by Sen. Jon Cornyn of Texas, Rockefeller
said
:
"This is a very, very important amendment and it's a very, very bad amendment. If there's anything which is clear, it's that the insurance industry is not running this markup, but is running certain people in this markup."
That's stating the plainly obvious, of course, but these days too many Democratic members of the U.S. Congress can't
face
the plainly obvious, let alone call it by its name.
We were sufficiently
unimpressed
with Sen. Rockefeller during the late, unlamented presidency of George W. Bush, especially his weak service on the Senate Intelligence Committee. And his uncritical support of everything the coal industry in West Virginia wants to accomplish, including the decapitation of scores of formerly green mountains, has given us heartburn for years.
So it's something of a blessed relief to be able to applaud his strong advocacy for real health-care reform and, incidentally, for his unblinking frankness in calling a weasel by its proper name.
Labels: health care, Jay Rockefeller
Wednesday, September 16, 2009
Senator Baucus Disposes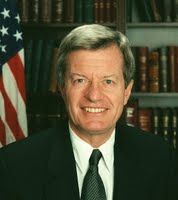 After months of stupid delay, while even stupider "negotiations" with Republican Senate obstructionists produced precisely zero, Senate Finance Committee Chair Max Baucus
expelled
a giant legislative fart all over Capitol Hill today, otherwise
known as
"The Insurance Industry Profit Protection and Enhancement Act of 2009."
No Republican on the Finance Committee supports it, and, turns out, that's a useful thing. An even better thing is that progressive Democratic senators on the committee are already lining up against it. Sen. Jay Rockefeller has so far expressed the
bluntest disdain
, but senators John Kerry and Ron Wyden are also grumbling. Those three Democratic votes would be more than enough to kill the bill, which is what needs to happen.
Labels: health care, Jay Rockefeller, Max Baucus