Subscribe to
Posts [Atom]
Sunday, March 21, 2010
David Frum: Republicans' "Waterloo"
Worth reading: Conservative columnist and former speech-writer for George W. Bush, David Frum's
slashing attack
on Fox News and the yak-masters of talk radio for making it impossible for Republicans in Congress to compromise with this president and save themselves from their "Waterloo" moment ... which is happening right now, tonight, in the health insurance reform vote.
Frum thinks Republicans are waaay over-optimistic about taking back Congress come November.
Frum points out that the bill being passed tonight is really very "Republican" in basic outline (and, gee, thanks for reminding me about why I secretly hate it!):
...the gap between this plan and traditional Republican ideas is not very big. The Obama plan has a broad family resemblance to Mitt Romney's Massachusetts plan. It builds on ideas developed at the Heritage Foundation in the early 1990s that formed the basis for Republican counter-proposals to Clintoncare in 1993-1994.
Frum sez to his tea-partying confreres: Get over yourself! This bill will never be repealed.
And he sez this: "We followed the most radical voices in the party and the movement, and they led us to abject and irreversible defeat."
Labels: David Frum, health care, Republican "brand"
Thursday, March 05, 2009
Who's Flying This Plane?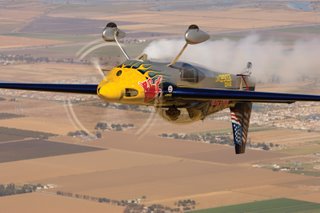 Well now! David Frum, former speechwriter for George W. Bush, fellow of the American Enterprise Institute, and (last we heard) Respected Conservative Pundit, had this to
say
on Monday about "the duel" currently entertaining the public:
On the one side, the president of the United States: soft-spoken and conciliatory, never angry, always invoking the recession and its victims. This president invokes the language of "responsibility," and in his own life seems to epitomize that ideal: He is physically honed and disciplined, his worst vice an occasional cigarette. He is at the same time an apparently devoted husband and father. Unsurprisingly, women voters trust and admire him.

And for the leader of the Republicans? A man who is aggressive and bombastic, cutting and sarcastic, who dismisses the concerned citizens in network news focus groups as "losers." With his private plane and his cigars, his history of drug dependency and his personal bulk, not to mention his tangled marital history, Rush is a walking stereotype of self-indulgence -- exactly the image that Barack Obama most wants to affix to our philosophy and our party. And we're cooperating!
Frum writes ('pears to us) more in sadness than in anger, but the characterization of The Man in Black seems much more a zinger (and from Limbaugh's own section in the bleachers) than any of the stuff Michael Steele intimated and about which Limbaugh unleashed the full BTUs of his scorn.
David Frum (bless his heart) is showing fellow Republicans how to get their testicles out of hock.
Labels: Barack Obama, David Frum, National Republican Party, Rush Limbaugh