Subscribe to
Posts [Atom]
Wednesday, November 04, 2009
The New Face of the Republican Party?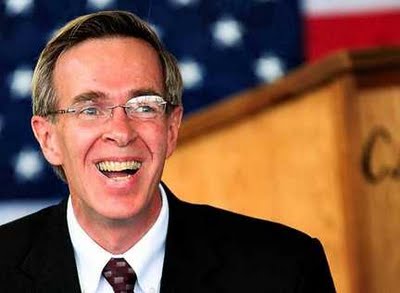 Meet Doug Hoffman, losing candidate for the U.S. Congress in the NY-23. Hoffman did NOT run and lose as a Republican. He ran and lost as a tea-bagging conservative. The GOP did NOT initially pick Hoffman as its candidate. No, it was worse than that. It picked a "moderate" Republican woman, Dede Scozzafava, who does not hate gay marriage and is pro-choice on abortion rights. Which led (as we're sure you know) to a major uprising within Republican and tea-bagger ranks. Ended up that every major Republican presidential hopeful in 2012, along with many other prominent national Republican spokespeople, bailed on Scozzafava and started endorsing Mr. Creepy Man Hoffman. Got so bad that Scozzafava pulled out of the race and endorsed the Democrat, the Unknown Man, Bill Owens, who won last night ... the first Democrat to be elected from the NY-23 since
before the Civil War
. Put that in your tea bag and steep it!
If this is what the conservative movement brings to the Republican Party, GOP operatives have very little to be strutting about this a.m. Exit polling in both Virginia and New Jersey strongly suggest that the voters in those states were not lashing out at President Obama. They were lashing out at Corzine in New Jersey (good riddance to all such present and former Goldman Sachs bankers, sez I). In Virginia, the 2008 Obama voters stayed home and demonstrated that Virginia definitely ain't for lovers. It's for old people.
Certainly, in North Carolina Tom Fetzer and the state GOP have precious little to crow about (from what we've been able to see so far this a.m.). But more on that in a subsequent post.
The elections in New Jersey and Virginia WERE about Obama in one way: those states went for him a year ago because he promised change, he promised an up-ending of "business as usual," he promised visionary leadership and progressive ideals. He has not delivered. He surrounded himself with the wrong people, and instead of dynamic leadership, we've gotten maddening caution and Rahm Emanuel. I might have sat at home myself in New Jersey or Virginia yesterday.
We keep hoping that the other Barack Obama, the one who won that huge election a year ago and told us things were going to be different, is eventually going to actually inhabit the Oval Office.
If he doesn't, 2010 will indeed be awful.
Labels: Barack Obama, Bill Owens, National Republican Party, Rahm Emanuel, Republican "brand", teabag protest, Tom Fetzer